India has struck Pakistan across the Line of Control,
12 days after 40 CRPF jawans were killed in a suicide
bombing in Jammu and Kashmir's Pulwama.
NEW DELHI, February 26 2019  
The Indian Air Force has launched airstrikes on terror camps and launch pads at 3.30 am. 1,000 kg bombs were dropped on Jaish bases across the LoC by multiple jets, including the IAF's Mirage 2000.
The aircraft dropped laser-guided bombs on major terror training camps across the Line of Control (LoC), completely destroying it, news agency ANI reported, quoting Indian Air Force sources.
The move comes two weeks after the terror attack in pulwama  in which over 40 soldiers of the Central Reserve Police Force (CRPF) were killed when a suicide bomber of the Pakistan-based Jaish-e-Mohammed exploded a car full of bombs next to a security convoy.
Here is how the daring air strikes on Pakistan were launched: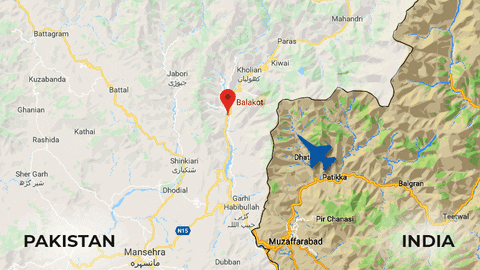 12 Mirage 2000 aircraft took off from Gwalior air base in batches.
The Mirage jets were armed 500/1000lb laser-guided bombs.
The Mirage 2000 jets were fitted with Israeli litening targetting pods.
An IAF early warning jet took off from Bhatinda.
Simultaneously, an IAF mid-air refuelling tanker took off from Agra.
Another, IAF Heron Surveillance also accompanied the team.
The Mirage 2000 pilots conducted final checks on the targets.
They were then cleared from the command centre to proceed.
The Mirage 2000 jets flew across LoC at low level.
The pilots of the Mirage 2000 jets used laser pods to 'paint' targets.
Finally, the Mirage 2000 jets dropped their payload of bombs.
The Indian Government has issued an official statement for the airstrike today.